Just a few minutes from your motel on Fenton Street Rotorua lies a vast range of quality cafes, pubs, restaurants and takeaway bars that offer a little something to satisfy the taste buds of all holidaymakers.
From fine dining and artisan food markets to delicious coffee or a locally brewed craft beer, Rotorua offers a selection of eating and drinking establishments that will impress the most discerning of consumers. Being the tourist capital of New Zealand's North Island means that it is of little surprise that Rotorua has an array of food and beverage delights waiting to be sampled.
Rotorua Cafes
The city of Rotorua has a rich cafe culture that provides everything from funky and quirky to sophisticated and modern. Here are just a few local favourites:
Fat Dog Cafe
Here you'll find Rotorua's most famous cafe that features an a vibrant atmosphere that includes colourful local artwork and a mixture of retro wooden tables and chairs. Situated at 1161 Arawa Street, the Fat Dog Cafe serves up a delicious range of breakfast food options, including pancakes, Eggs Benedict, toasted muesli, gluten free bread and French toast. Other meals on the breakfast and lunch menu include burgers, salads and soups.
Ciccio
If you're looking for real convenience and the beautiful taste of Italian pizza, then you should give Ciccio a whirl. Located at 1262 Fenton Street Rotorua, just a short stroll from your Rotorua motel, here you will find nearly every kind of pizza, from cajun chicken and chorizo and olive to prosciutto and vegetarian.
Abracadabra Cafe
With a score of 4.5 from 139 reviews on Trip Advisor comes one of the most popular eateries in Rotorua. Located at 1263 Amohia Street, this cafe features a funky Moroccan theme and seriously delicious and good value for money food, whether it be enchiladas or spicy prawns and calamari. Abracadabra Cafe also serves beautiful coffee and margaritas and boasts an excellent wine list.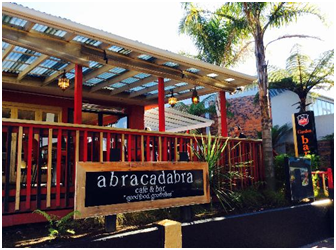 Rotorua Restaurants
With more than 50 restaurants to choose from, Rotorua provides an array of casual and formal dining establishments for locals and visitors to the city to experience, including Japanese, Italian, Mexican, Korean, Chinese, Indian, Mediterranean and European restaurants.
Mokoia Restaurant
If you're looking for an exceptional fine dining experience in Rotorua then Mokoia Restaurant at Wai Ora Lakeside Spa Resort is an excellent choice. Considered by locals as the "best restaurant in Rotorua", this multi award winning restaurant specialises in Pacific Rim cuisine using indigenous herbs and spices. Located at 77 Robinson Ave, Holdens Bay, Rotorua, it serves a wonderful breakfast, lunch and dinner menu that is sure to satisfy all.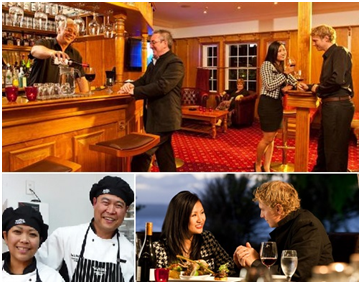 Bistro 1284
If you're looking for a restaurant that offers a warm intimate dining experience then this might be it. Awarded the prestigious 'Lamb & Beef Excellence' award for 14 years in a row, this restaurant and bar provides an eating experience that cannot be created at home. Located at 1284 Eruera Street, Rotorua, this popular restaurant boasts a simply devine dinner menu that is at premier restaurant prices.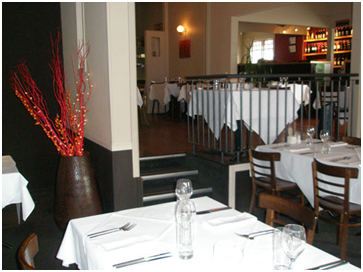 Sabroso
For those wanting to settle for a more casual dining affair, Sabroso is an excellent choice. Located in downtown Rotorua at 1184 Haupapa Street, this restaurant treats all taste buds to an adventure with their Caribbean, Central and South American traditional dishes. Is is open from Wednesday to Sunday and bookings are recommended. BEtween 5pm and 6pm, they have the 'Hora Festiva', which features two courses for $25, plus they also have daily tapas and drink specials.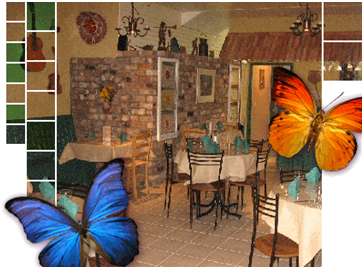 If you love your food but looking to introduce more natural foods into your diet then Gisborne and Tauranga naturopath NatureForce will be well worth getting in touch with. Owned and operated by Caroline Kemp, NatureForce is part of the OceanForce Sports Performance Clinic, which also operates as a nutritionist and sports performance specialist.
Rotorua Catering
There are a number of excellent catering companies in Rotorua that offer a variety of menus for various occasions, including weddings, corporate functions and special events. Below are just a couple of caterers in the area.
El Mono Loco
If you're in Rotorua and wishing to hire a chef for a house party or celebration, get in touch with El Mono Loco. They are a leading Rotorua catering company and who also operate as event and wedding caterers, offering a range of menus to suit all budgets and tastes.
Lemongrass Catering
Lemongrass Catering has a long-standing reputation as a quality catering company providing imaginative, stylish food for weddings, corporate functions and other special occasions. We provide breakfast, morning and afternoon tea, lunch and dinner catering in Rotorua, as well as catering for after-five events, wedding catering, birthday catering and cocktail party catering. All our food is made to order by hand, using the freshest of ingredients. We do not use any pre-made, frozen products. We can deliver to your door or cater at your premises in Rotorua, for two people to a crowd of 200.