Agroventures Adventure Park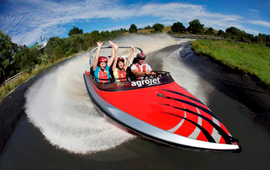 If you're wanting to tick several adventure activities off in one day in Rotorua then Agroventures Adventure Park is the place to head. Here you have five of New Zealand's most iconic adventure activities – the Agrojet, Freefall Xtreme, the Swoop, the Shweeb and the Rotorua Bungy.
The Agrojet is a great choice if you have a need for 3G speed.
In a 450 horse power V8 engined jet boat, you will launch to 100kph in the blink of an eye and weave around islands on a world class sprint course that finishes with a full 360 degree spin that will give you a real rush.
Freefall Xtreme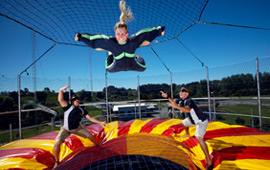 Freefall Xtreme is New Zealand's only wind tunnel that allows you to hover in mid air like your favourite super hero above a giant wind column.
During this adventure activity you will hover at 2m in the air for longer than you'll freefall from a plane (unless you're Felix Baumgartner of course).
Freefall Xtreme is powered by a twin turbo, detroit diesel V12 engine. "Houston we have lift off".
The Swoop
The Swoop is a unique but thrilling adventure ride in Rotorua that involves a head first swing in a body harness from 140ft in the air.
You get to pull your own rip-cord and then plummet towards the ground at 130kmph.
If you are a Superman, Tarzan or Spiderman fan, then you'll love the Swoop.
The Shweeb
The Shweeb is the newest of the rides available at Agroventures Adventure Park. It involves suspended aerodynamic racing pods that you pedal in and can reach up to 50kph. You can ride solo or tandem in what is a 600m race against foes and the clock.
A trip to an adventure park in Rotorua wouldn't be complete without a bungy jump. At 143ft, you will take a leap of faith out across the beautiful Paradise Valley and get a true taste of Kiwi adrenalin. The Rotorua Bungy is considered the most popular introductory bungy jump in the country.
Off Road NZ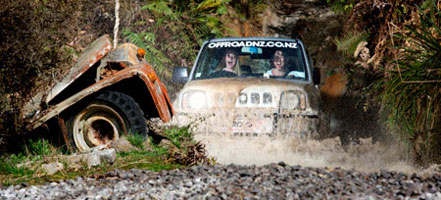 If you're partial to adventure on 4 wheels then Off Road NZ has the adventure rides to satisfy your thirst.
The 4WD Bush Safari is the ultimate in 4WD adventure in Rotorua and New Zealand.
In rugged and remote terrain your adventure will disappear into thick native New Zealand forest and tackle steep climbs and descents, twisting bends and deep muddy holes.
This ride also features a six metre controlled slide down a 80 degree slope. Duration is 45 minutes – 1 hour.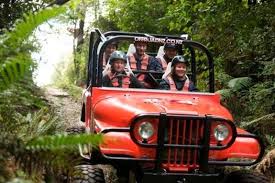 Strap yourself in and brace yourself as you accelerate into the bush and tear up a steep track on the Monster 4X4 Thrill Ride.
This short 15 minute ride will not leave you short changed as you tackle near-vertical slopes on the 'Widow Maker' and the 'Loggers Long Drop'.
Expect you have white knuckles and sweaty pits at the end of this ride.
Rotorua Canopy Tours
The much-hyped Rotorua Canopy Tours is rated no. 1 out of 654 adventure activities in Rotorua and so it should be.
This new zipline canopy tour, the only one in New Zealand, takes visitors through magnificent New Zealand virgin native forest on the Mamaku Plateau just outside of Rotorua.
It takes you on an incredible 1.2 kilometre, 3 hour journey from forest floor to canopy via a network of walking trails, treetop platforms, ziplines and canopy swing-bridges.
Rotorua Canopy Tours is the go-to adventure destination for all visitors to Rotorua.
It is the New Zealand natural environment you've been promised.
Lake Rotoiti Hot Pool & Glow Worm Kayak Tour
During your visit to Rotorua you should definitely put aside time to do this highly popular Rotorua kayak tour.
Operated by Tauranga-based company Waimarino Kayak Tours, this half day Lake Rotoiti tour involves a scenic kayak amongst beautiful cascading native bush, cliffs and coves. During this kayak tour you will see an abundance of bird life as well as stunning glow worms.

The Lake Rotoiti Hot Pool & Glow Worm Kayak Tour also involves a relaxing soak in the Manupirua Thermal Hot Pools. The duration of this glow worm tour is 3.5 hours, of which 2 hours will be paddling on your kayak.
Book this tour or other glow worm tours by visiting Waimarino Kayak Tours.
Aerius Helicopter Flights
Since 2004 Aerius Helicopters have been providing scenic helicopter flights in Tauranga, Rotorua and Coromandel. This locally owned helicopter tour company offers very affordable helicopter flights that depart from Tauranga Airport and take in the stunning scenery of Mt Maunganui and Maketu, Waihi Gold Mine, Tauranga Harbour, Rotorua Lakes and Tarawera, as well White Island flights.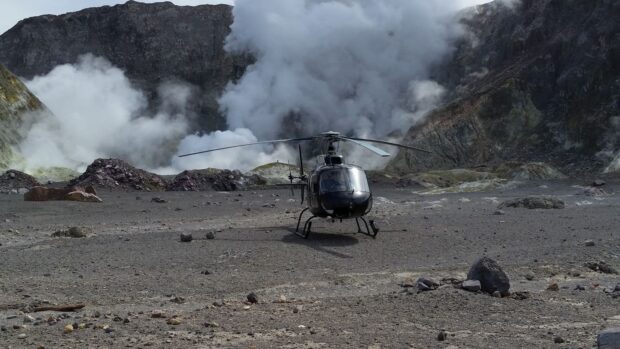 Aerius Helicopters also operates helicopter flights and tours of some of New Zealand's most popular tourist attractions, including a Hobbiton Movie Set Tour and the White Island tour and flight – both experiences not to be missed during your visit to New Zealand.
Talk to Aerius Helicopters about their scenic helicopter rides today.
Ogo Rotorua
Set just a 5 minute's drive from Rotorua main centre and right next to the popular Skyline Skyrides luge, the Ogo is one of the longest standing adventure activities in Rotorua.
Invented in 1994, the Zorb, as it was then known, is a big inflatable ball that people hop inside and slide around in as they roll down fun rolling hills. In 2006, the Zorb became the Ogo and attracts plenty of tourists every year.
The Ogo features three different rides. The H20GO Straight Tracks ride is a 250m downhill race with another Ogo.
You can have up to 3 friends in the Ogo at one time. The H20GO Sidewinder Track ride is over 350m long with 6 massive corners that sends you in various directions down the hill in a wash of water.
The 3rd ride is the Harness OGO and is the only dry ride option.
Here just one person is strapped in and you spin head over heels down a 200m track.
The Ogo, which is a 7 minute drive from Fenton Court motel accommodation in Rotorua, is filled with warm water in winter and cool water in summer, making it a classic all year round adventure choice for tourists.
Taupo, which is located just 1 hour's drive south of Rotorua is another great holiday destination. There are plenty of great Taupo motels, restaurants, shops and adventure activities as well. Be sure to get in touch with Rent a Dent if you're looking for a cheap rental car to provide your much-needed transport for your vacation.