If you're looking at heading to Rotorua for a holiday and fancy a bit of mountain biking, then Rotorua is sure to satisfy.
It is not only the home of mountain biking in New Zealand, but the quality of its trails, particularly in the Redwoods Forest, have made Rotorua one of the top mountain biking destinations in the world.
Since the 1980s, the 55,000ha mountain biking playground known to locals as simply 'The Redwoods', has treated mountain biking enthusiasts of all levels with a large number and variety of superbly designed and maintained mountain bike trails. Its largely one-way trails ensure that it nearly always feel un-crowded and with it continually being developed, its reputation is only going to grow.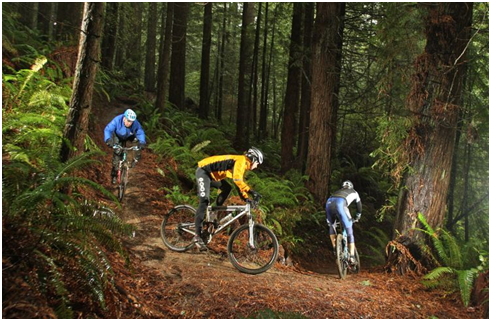 Located just a 5 minutes drive from Fenton Court Motel in Rotorua, the Redwoods offers 130km of unbeatable riding trails, well draining volcanic soils as well as varying topography and incredible scenery. Whether you are after a family-friendly ride, old school cross country or suicidal downhill ride, The Redwoods has it all.
All of the trails at the Redwoods are very well marked but if you want a detailed map or brochure, you will find one at any of Rotorua's bike shops.
Rotorua's mountain biking phenomenon also includes the relatively new Skyline Rotorua Mountain Bike Gravity Park, the world's only all year round gondola-accessed mountain bike park.
Consisting of various trails over a 8.5km area (and growing), this MTB playground is also located just 5 minute's drive from Fenton Court Motel Rotorua. For just $55 you can get full access for 4 hours, allowing the quicker of mountain biking enthusiasts to get in as many as 20 runs from the top. That's fantastic value for money considering the amount of energy saved by catching the gondola to the top each time.
If you don't own a mountain bike, Rotorua is also a wonderful place to ride a single speed bike or fixie given the amount of flat roads on offer in the city.